MUSIC GENRES CREATED BY BLACK PEOPLE:
During a 2020 Twitter spree, Kanye West called out the music industry and labels' exploitation of black artists. Kanye's soliloquy compared the industry to a "modern-day slave ship," and while this analogy might seem characteristically sensational, the rapper got one thing right: music is indebted to black people. You cannot imagine modern music without its African influences. It just doesn't exist.
The truth is, music labels and artists alike have built their empires on black creators in more ways than we're willing to acknowledge. White artists receiving the kudos for black art are as entrenched in music as hooks and refrains – no, I'm not talking about Macklemore winning the Best Rap Album at the 2014 Grammys, it's far deeper than that.
Since the early 20th-century minstrel shows, where white musicians performed appropriated music in black face, some things have stayed the same: white artists are often more commercially successful than the black artists who are being parodied. They want the music, not us.
While many black innovations in music have been rewritten as relics of white culture, the few genres that are considered popularly black – like hip-hop, R&B, reggae, and Afropop – are relegated to the one-size-fits-all term "urban." Tyler, the Creator described this categorization as "the politically correct way to say the N-word." He's not wrong. Not only does this marginalize black musicians' contributions to music, but it builds on the entirely false notion that other music could be non-black.
As the music industry is finally taking steps to remove the problematic term from its verbiage, it's important to note that "urban" never meant "black." How could it, when it ignored a whole world of music genres pioneered by black people?
From jazz to techno, here's a list of some of the music you didn't know black people created.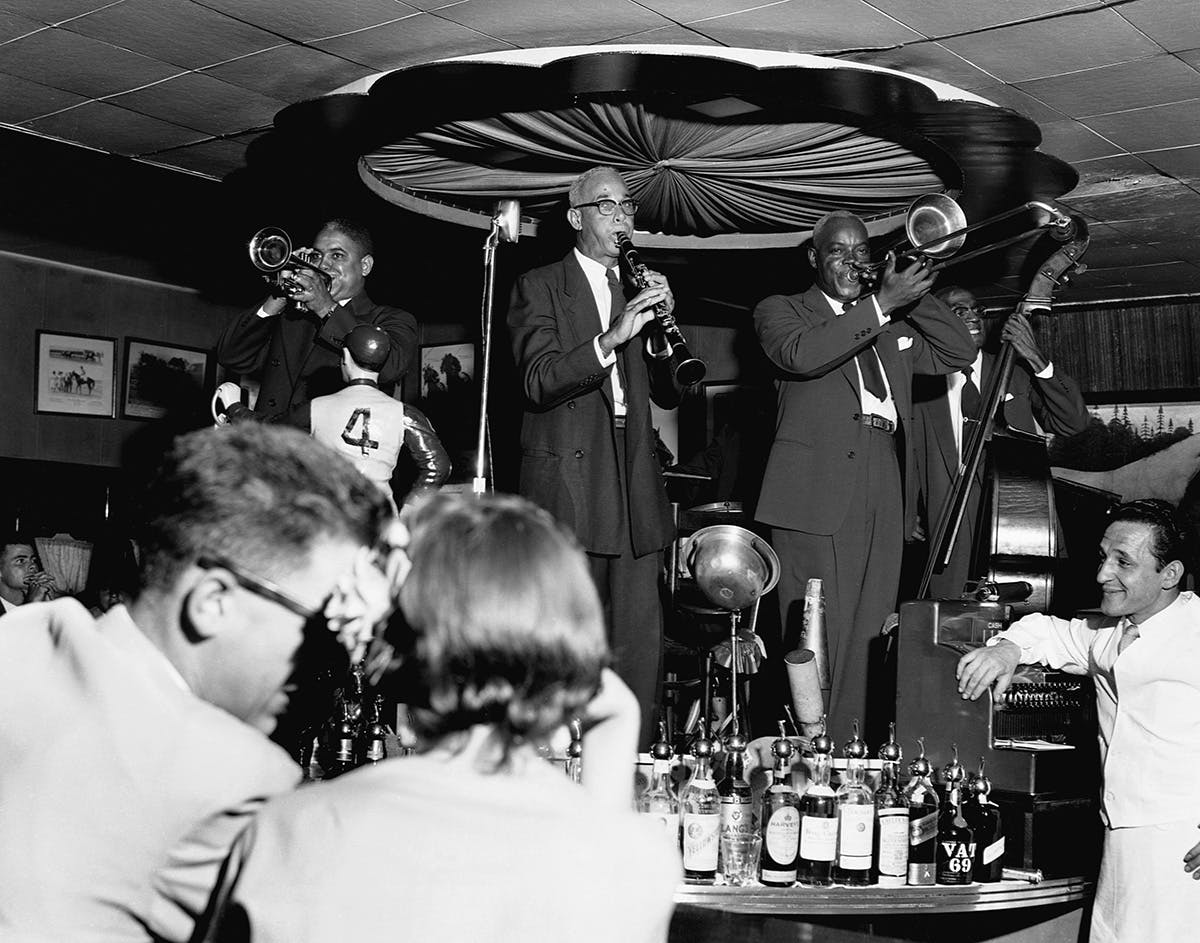 Jazz
A new sound arose in the community of African Americans in New Orleans in the late 19th century. With the popularity of local brass bands, many non-music-reading black musicians would play improvised music for parades and gatherings. The melodies increased the tempo of blues into distinctly upbeat and polyrhythmic tunes called "Jass."
However, it was only much later, in 1917, that what is considered the first Jazz recording was released by Original Dixieland Jass Band – an all-white band. On the record "Livery Stable Blues," Original Dixieland Jass Band borrowed to the point of plagiarism from the African-American musicians they'd heard in their native New Orleans. The song sold over a million records and by the 1920s, Jazz had gained ground in the mainstream – an early instance of the recording industry commercializing black music and giving white performers the acclaim.
Country
In 2019, newcomer Lil Nas X made waves with his Country Trap banger "Old Town Road." The viral hit made history, topping not only Billboard's Hot R&B/Hip-Hop Songs chart but also its Hot Country Songs chart. Suddenly, a young black hip-hop artist from Atlanta was at the center of a debate on race, the Nashville establishment and musical genres.
Many country radio stations refused to play the song without explanation. Then, Billboard determined that the song was not country enough. As The New York Times described it, "A black kid hadn't really merged white music with black, he'd just taken up the American birthright of cultural synthesis."
Country music can trace its roots to the American South's tumultuous racial climate. The black influence on country music starts with the banjo. A descendant of West African lutes brought to America by slaves, the instrument became a central part of slave spirituals and field songs. The sound was appropriated and spread to white audiences through minstrel and blackface shows. Likewise, many of the songs by white Country artists were taken from black sources – often without credit.
Country music's erasure of its black innovators is symbolic of all manner of interracial collaboration and amalgations in American music – and their dismaying ranges of consent.
Rock 'n' Roll
This brings me to rock 'n' roll. Although many would consider it to be a "white genre," many of its origins lie in the black community.
Rock 'n' roll evolved from the rhythm and blues of the 1940s when it was categorized as "race music." However, the godmother of rock 'n' roll, Sister Rosetta Tharpe, turned this burgeoning music into what it is today with her distinctive guitar style informed by gospel music.
It soon became a mainstream cultural phenomenon known for its eccentric performance style through black artists like Little Richard and Chuck Berry. Nevertheless, Elvis Presley's baritone and swiveling hips earned him the title of "King of Rock and Roll." Black artists built Rock 'n' Roll – then it left them behind.
House
As Chicago house producer Derrick Carter put it in 2015: "Something that started as a gay black/Latino club music is now sold, shuffled, and packaged as having very little to do with either." What Carter was lamenting is how the LGBTQ, African American, and Latino communities created the cultural phenomenon that is House in Chicago's underground clubs with little to no recognition. If you're a music head – or from Chicago – you'll know this.
A black gay DJ named Frankie Knuckles – also known as "The Godfather of House – is credited with innovating the genre when he remixed disco into early house music in the late '70s.
Years later, the David Guettas of pop culture has usurped the queer black narrative of house. But, remember, Knuckles' brand of dance music was born to be played for the gay people of color on Chicago's South Side – not bottle service in Ibiza.
Techno
Similar to house, techno may be associated with European club culture and hedonism, but it was born in the black community in Detroit. Originally revolutionary music, techno was the byproduct of the African-American struggle and a form of wordless protest.
Detroit DJ Robert Hood, credited as the originator of techno, fused funk, disco, and gospel beyond recognition in the '80s. Along with his Underground Collective, Hood's uncompromising sound was unapologetically pro-black. In his own words, "[Techno is] the struggle of black artists that came from nothing, had nothing—[I was] blessed to share this music." Detroit Techno redefined the limits of music and was ultimately repackaged and presented for European rave culture.
From jazz to techno, this is the music of a people who have survived, who not only won't be silenced but also can't be silenced. If this history lesson teaches you anything, it's the invaluable impact black people have had on the music we know today.
Celebrate the diversity of black music with us, from Neo-soul to West-African drill, and listen to Highsnobiety Music's All-Black playlist below.