For Breakfast Vegans

Refresh your morning routine with these vegan breakfast ideas! They include easy recipes for plant-based scrambles, pancakes, oats, and more.

So often, I hear from readers who are looking for vegan breakfast ideas. It makes sense – for many of us, eggs and yogurt are pretty standard breakfast fare. What other options are out there?
Well, good news! Many traditional breakfast recipes like oatmeal and smoothies are naturally vegan, and others, such as pancakes and muffins, can be made vegan with a few easy ingredient swaps.
Below, you'll find classic vegan breakfast recipes like these as well as out-of-the-box ideas that you might not have tried before. They're all fresh, flavorful, and energizing – a perfect way to start the day. If you want to add more plant-based meals to your diet or just want to shake up your morning routine, I hope you'll try one! With oats, scrambles, pancakes, and more, you're bound to find something you love.
Oat and Porridge Vegan Breakfast Recipes
It's impossible to write about vegan breakfast ideas without mentioning oats! They're so darn versatile – you can soak them, simmer them, bake them, and more – and they taste great with all sorts of sweet and savory toppings. Not an oatmeal person? You'll find recipes using quinoa and chia seeds in this category too.
Overnight Oats
Pack them in a Mason jar for an easy, on-the-go breakfast, or load them up with toppings at home! These cool and creamy oats are endlessly customizable. Try one of the four topping combinations above, or have fun inventing your own.
Steel-Cut Oatmeal
On cold mornings, I love warming up with a bowl of steel-cut oatmeal. As with overnight oats, the toppings are half the fun here. Pile on fresh fruit, nuts or nut butter, coconut flakes, and more!
Whole Oat Porridge
Who says oatmeal has to be sweet? Miso, tamari, green onions, and squash add complex flavor to these savory porridge ideas. Cozy and satisfying, they're a nourishing vegan breakfast that's guaranteed to keep you full till lunch.
Homemade Granola
Made with almond butter and maple syrup, this granola is lightly sweet, warmly spiced, and packed with nutty clusters. Serve it with fresh fruit and oat milk or your favorite plant-based yogurt!
Blueberry Baked Oatmeal
I love to make this recipe for a special occasion brunch. Assemble it ahead of time, and pop it in the oven right before you eat!
Cinnamon Quinoa Breakfast Bowl
Quinoa acts as a protein-rich alternative to oats in this cinnamon-spiced breakfast bowl. Top it with your favorite seasonal fruit!
Easiest Chia Pudding
This hearty grain-free pudding is a perfect grab-and-go breakfast. Stir it together in the evening, and allow it to chill in the fridge overnight. In the morning, it'll be thick, creamy, and ready to eat!
Pancakes, Waffles, and French Toast
Nope, you don't need eggs to make fluffy pancakes, tender waffles, or custardy French toast! I love to make these vegan breakfast recipes on the weekend. If I have leftovers, I freeze them for busy weekdays. Pop waffles in the toaster or pancakes in the microwave to reheat.

Banana Pancakes
Made with a blend of oat flour and whole wheat pastry flour, these healthy pancakes are soft, fluffy, and bursting with banana flavor. Douse them in maple syrup, or smother them in peanut butter and sliced bananas.
Vegan French Toast
French toast sans eggs? You betcha!
Whole Wheat Vegan Waffles
Tbh, I prefer vegan waffles to ones made with butter or eggs! They have a lovely light texture and a tangy "buttermilk" flavor from my go-to ingredient: a squeeze of lemon juice.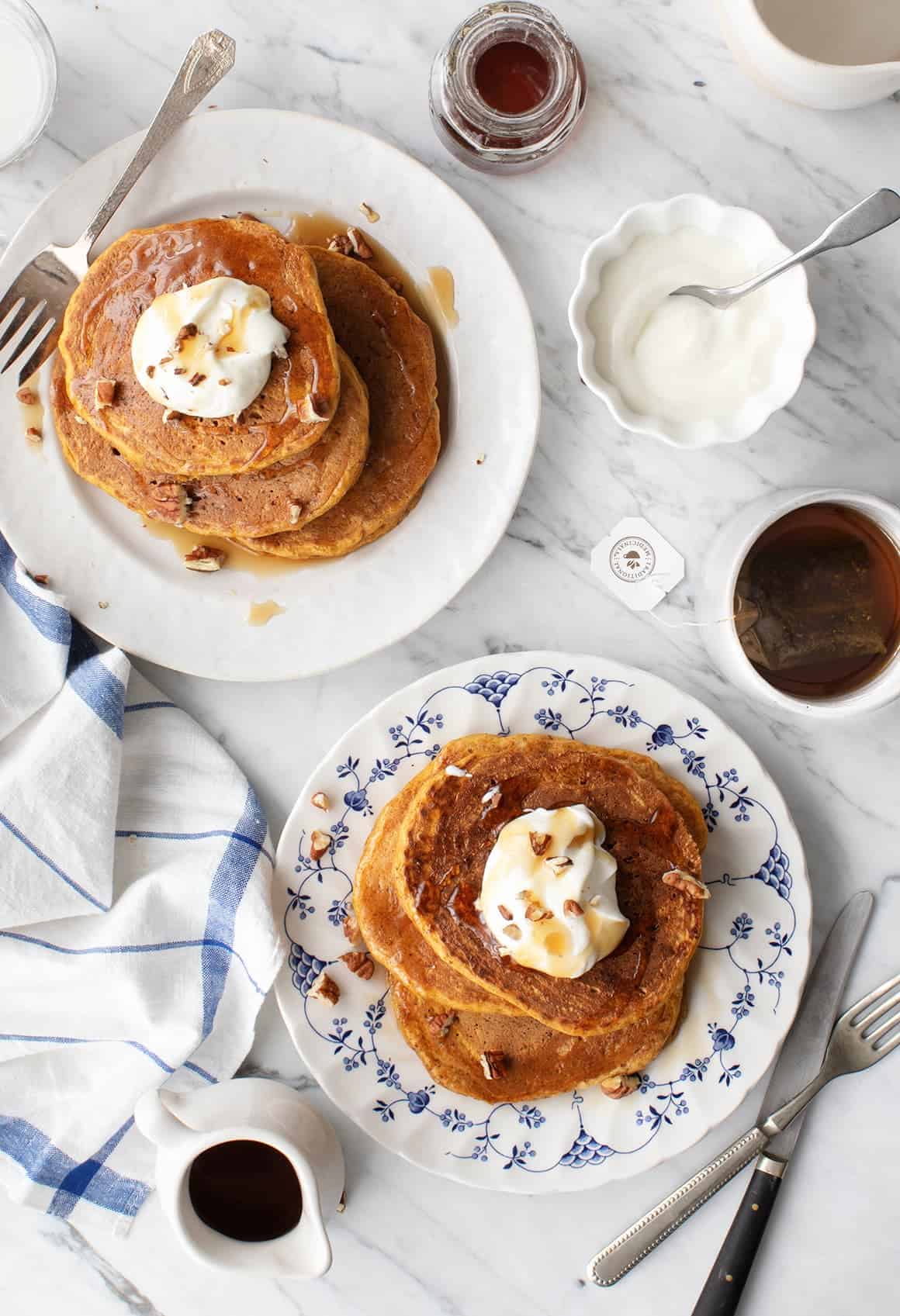 Pumpkin Pancakes
In the fall, Jack and I love to start Saturday mornings with these fluffy pumpkin pancakes. Not a pancake person? Make this vegan pumpkin French toast or these pumpkin waffles instead!
Vegan Carrot Waffles
If you love carrot cake, you'll go crazy for these cinnamon-spiced carrot waffles! Dress them up with maple syrup and dollops of coconut whipped cream.
Savory Vegan Breakfast Ideas
So many vegan breakfast ideas are sweet – oatmeal, smoothies, waffles, etc. But if you're a savory breakfast person, don't worry! Below, you'll find vegan breakfast recipes for scrambles, bagels, and more.
Tofu Scramble
This tofu scramble is the ultimate plant-based breakfast! It's quick enough to make on a weekday, but I love to serve it with tortillas, salsa, vegan bacon, and sautéed greens for a hearty weekend brunch.
Avocado Toast
There's a reason avocado toast got so trendy a few years back: it's delicious! Experiment with fresh, bold topping combinations like the 5 you see above, or keep things simple. I'll never turn down a thick slice of toast piled with sliced avocado and sea salt.
Breakfast Polenta Bowls with Chimichurri, page 49 of Love & Lemons Every Day
Whenever I have roasted sweet potatoes or broccoli leftover from dinner, I make this comforting breakfast bowl the next day. I love the chimichurri's zingy flavor with the creamy polenta and veggies, but a scoop of vegan pesto would work here too.
Homemade Bagels
Crisp on the outside and chewy in the middle, these homemade bagels will give any store bought ones a run for their money. Smother them in everything bagel seasoning, sesame seeds, poppy seeds, or sea salt.
Vegan Carrot Lox
Nope, that's not salmon! Salt-roasted carrot strips replace the fish in this all-veggie lox recipe.
Vegan Breakfast Cookies and Muffins
Like pancakes and waffles, vegan breakfast cookies and muffins are super freezer-friendly. Make a double batch over the weekend, and stash the rest in the freezer for quick breakfasts throughout the week.
Oatmeal Breakfast Cookies
Cookies for breakfast? Sign me up! Ground flaxseed, almond flour, almond butter, walnuts, and oats pack these cookies with protein, fiber, and healthy fats.
Carrot Quinoa Breakfast Cookies
These carrot-flecked cookies make it easy to eat your veggies! I make them whenever I have leftover quinoa hanging around in the fridge. Along with pepitas and almond butter, it fills the cookies with fiber and plant-based protein.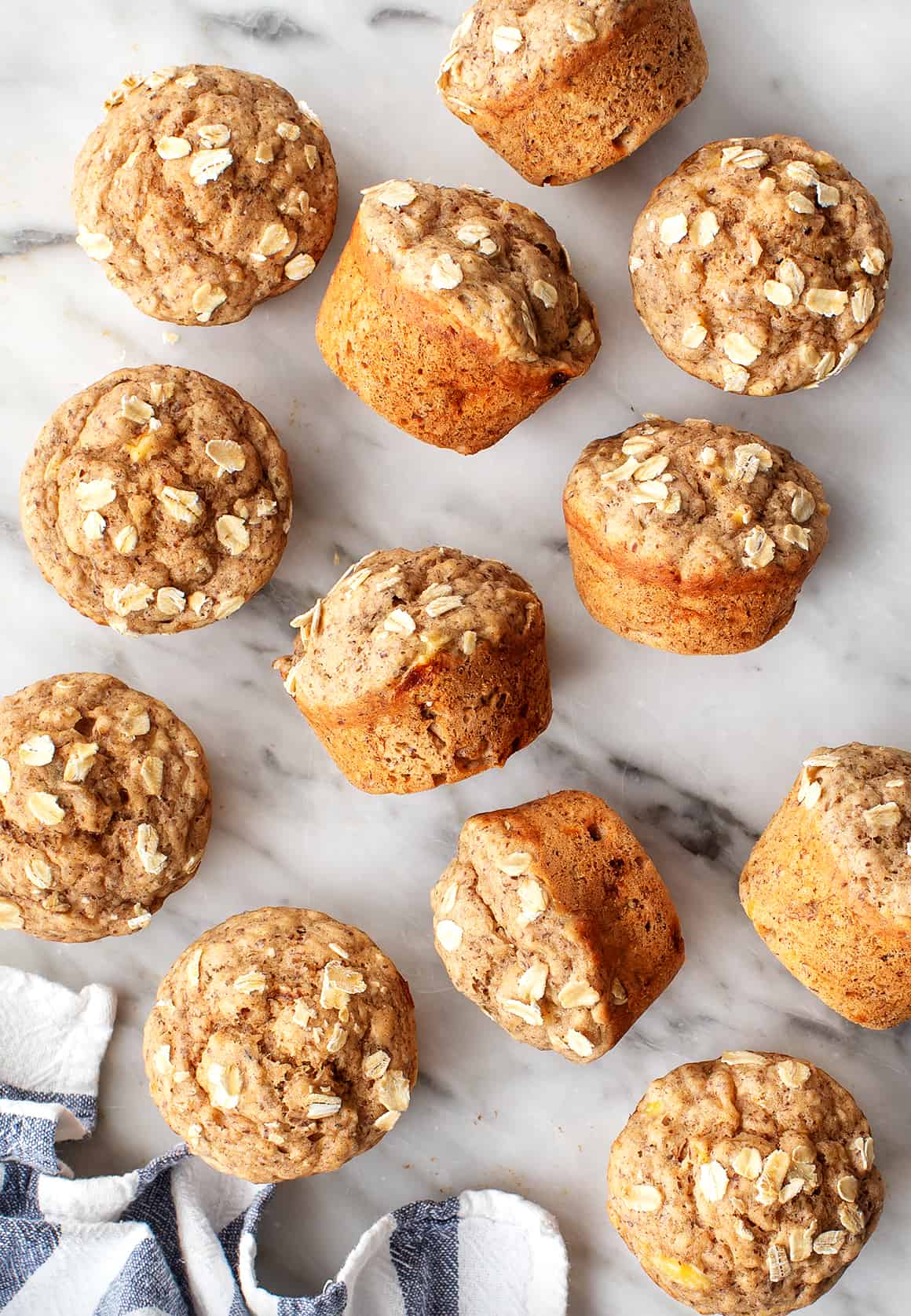 Healthy Banana Muffins
When I was a kid, my family ate muffins for breakfast nearly every day. Years later, nothing gets me more excited to get out of bed in the morning than the thought of a warm muffin. These banana muffins are some of my favorites. They're moist, fluffy, and bursting with spiced banana flavor.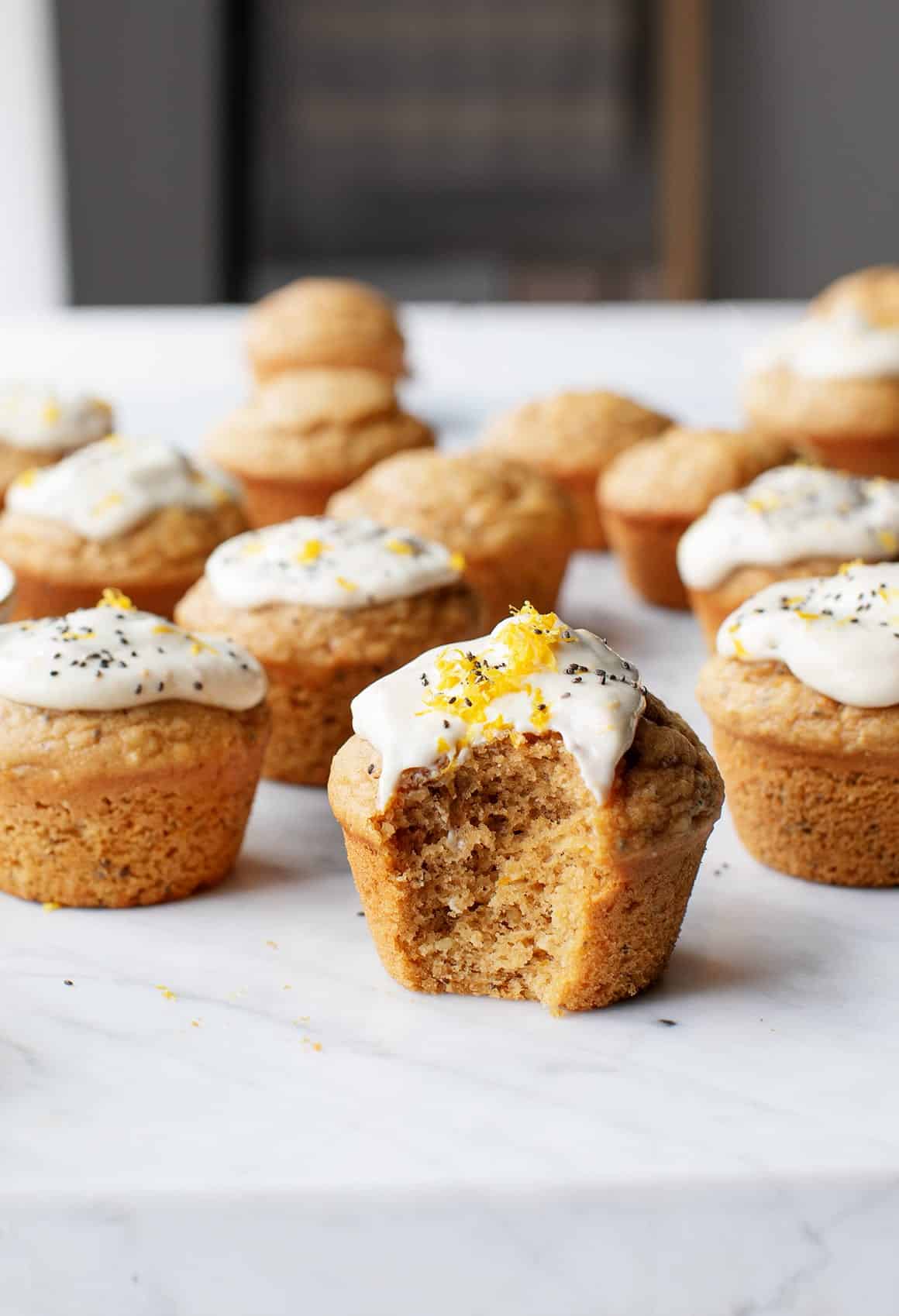 Vegan Lemon Muffins
Enjoy these lemon and chia muffins on their own, or top them with tangy vegan frosting for a more decadent breakfast treat.
Coconut Mango Muffins
Mango, coconut flakes, and lime juice give these muffins a tropical flair.
Smoothie Vegan Breakfast Ideas
If you want to start your day with a whole lotta fresh fruits and veggies, look no further than these plant-based smoothie recipes.
Strawberry Banana Smoothie
This banana-berry combination is a classic for a reason, but if you want to get creative here, feel free. I love adding a handful of raspberries for a tarter flavor or blending in basil or mint for a refreshing kick.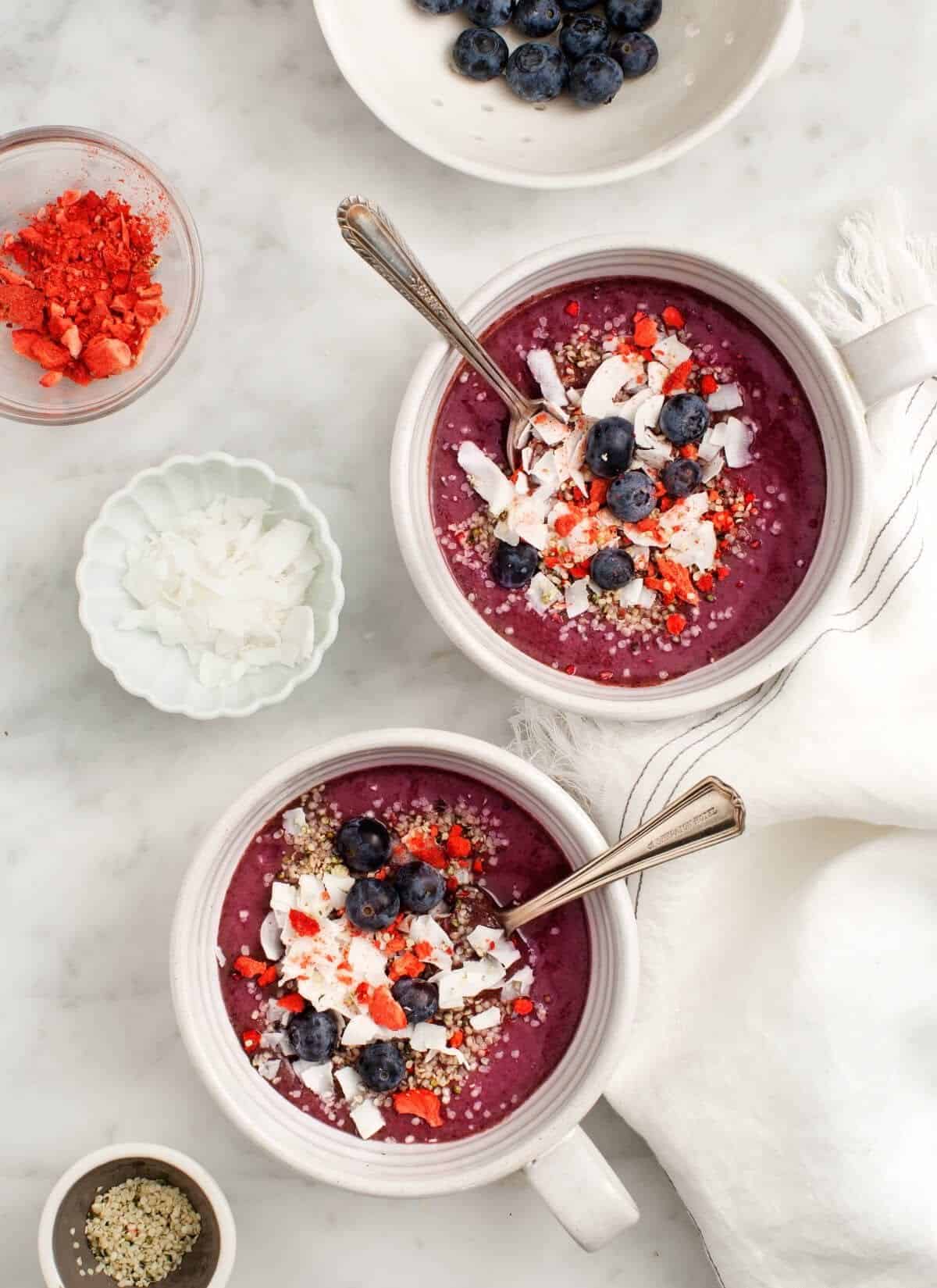 Berry Superfood Smoothie Bowl
This breakfast bowl tastes so good that it could pass as dessert! But don't be fooled – it's made with good-for-you ingredients like berries, almond butter, and spinach.
Avocado Smoothie
Avocado will take your smoothie game to a whole new level! It gives this refreshing blend an AMAZING creamy texture and packs it full of healthy fats.
Blueberry Smoothie
Rooibos tea gives this smoothie an earthy, complex depth of flavor. But if you don't have any on hand, don't worry. This vibrant berry blend is still delicious without it.
Quick Breads, Rolls, and Scones
Start the day with a little something sweet! These vegan breakfast baked goods are best enjoyed with a hot cup of coffee or tea.
Healthy Banana Bread
I could eat slice after slice of this banana bread! A mix of almond flour and whole wheat pastry flour gives it a super moist and tender texture.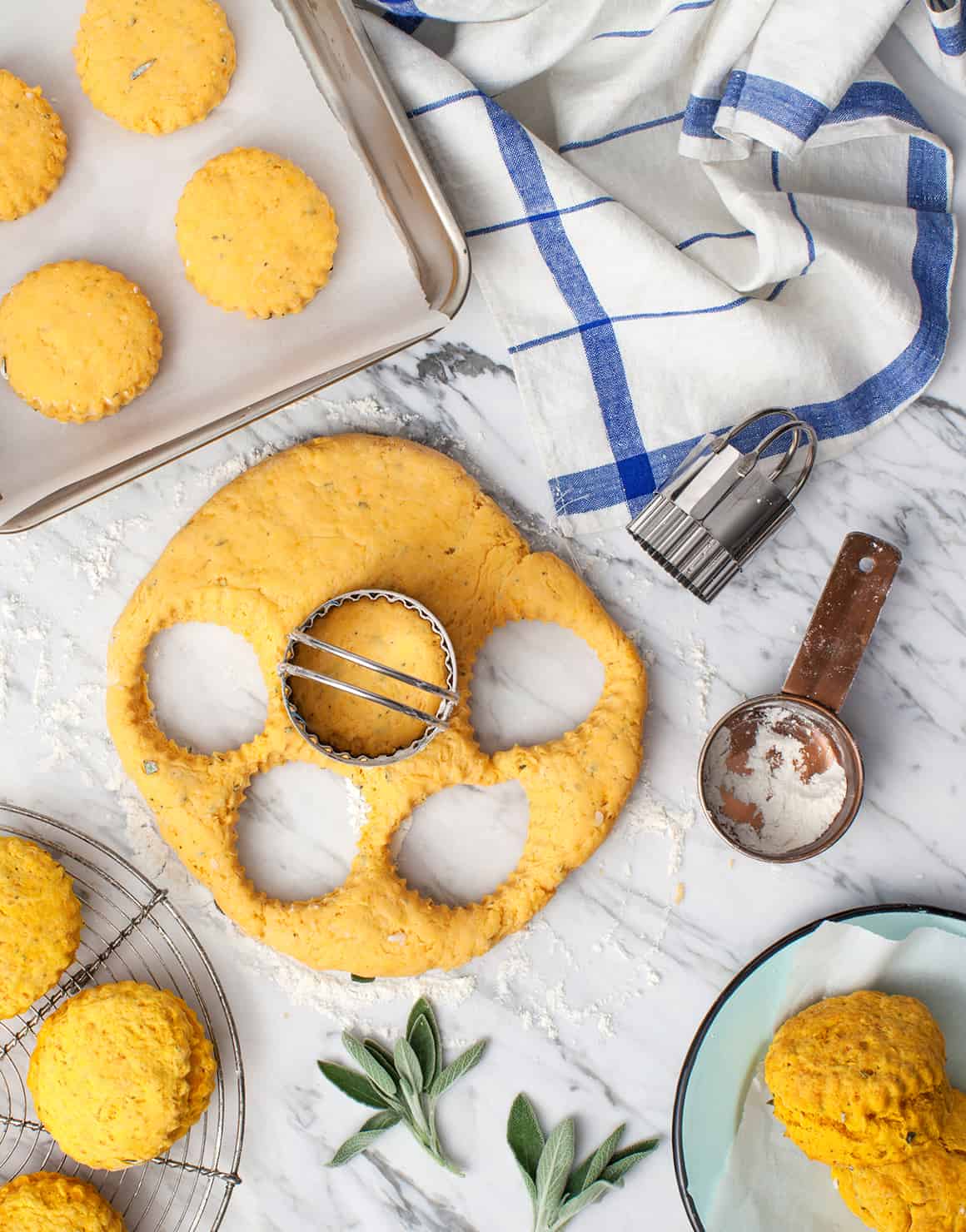 Sweet Potato and Sage Breakfast Biscuits, page 55 of Love & Lemons Every Day
These cozy biscuits are one of my favorite recipes from Love & Lemons Every Day! Made with fresh sage and baked sweet potato flesh, they're moist and aromatic, with a crave-worthy sweet and savory flavor.
Vegan Scones with Raspberries
These yummy scones aren't just vegan – they're gluten-free, too! Enjoy them plain, or dress them up with a simple powdered sugar glaze.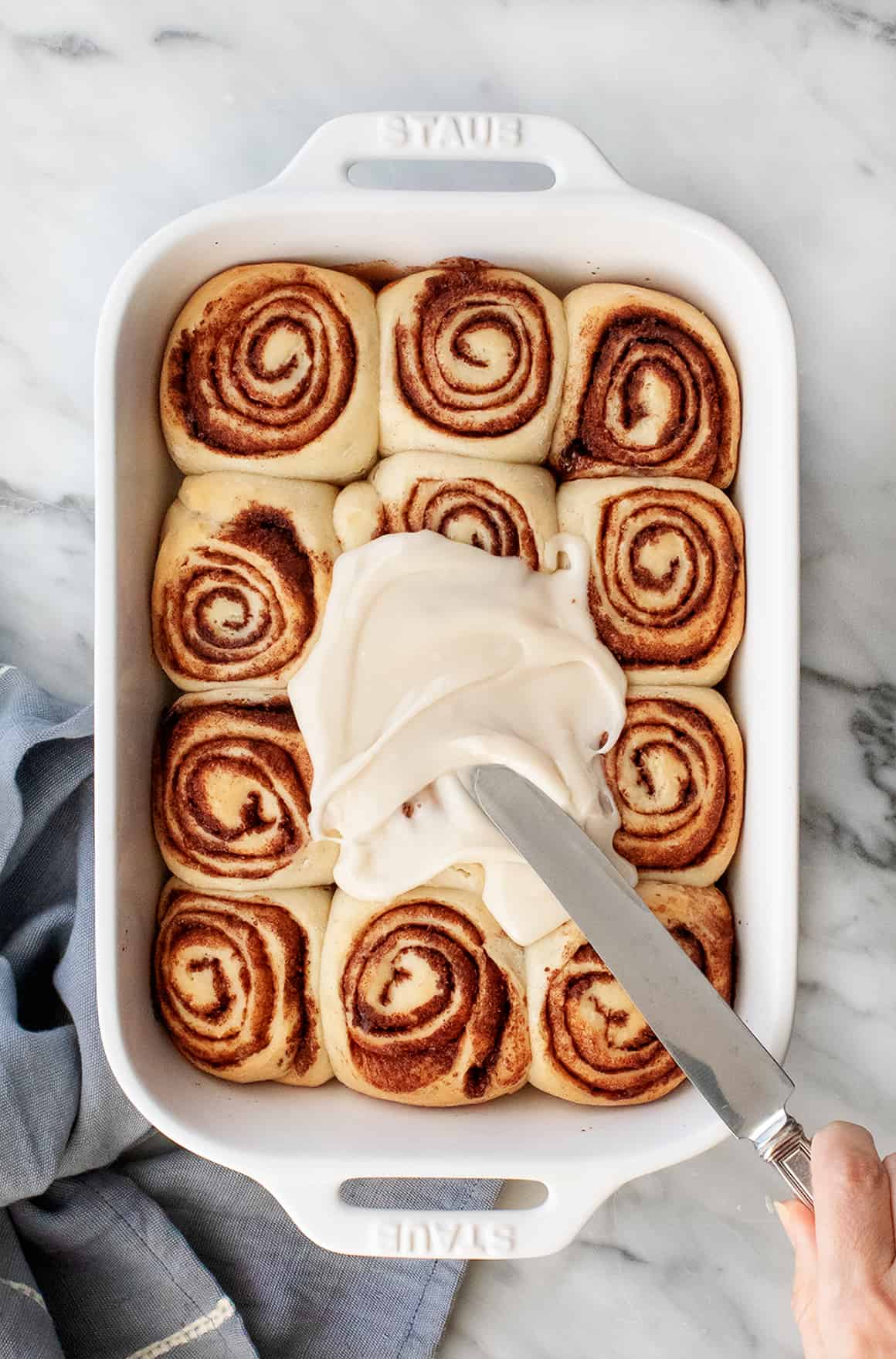 Cinnamon Rolls
Coconut oil steps in for butter in these ooey, gooey vegan cinnamon rolls. I make them every year for the holidays, and they're always a hit with family and friends.
More Favorite Vegan Recipes
If you love these vegan breakfast recipes, check out these 31 Plant-Based Recipes or these 85 Best Vegan Recipes for lunch or dinner! Or if you're craving something sweet, try one of my 30 Best Vegan Desserts.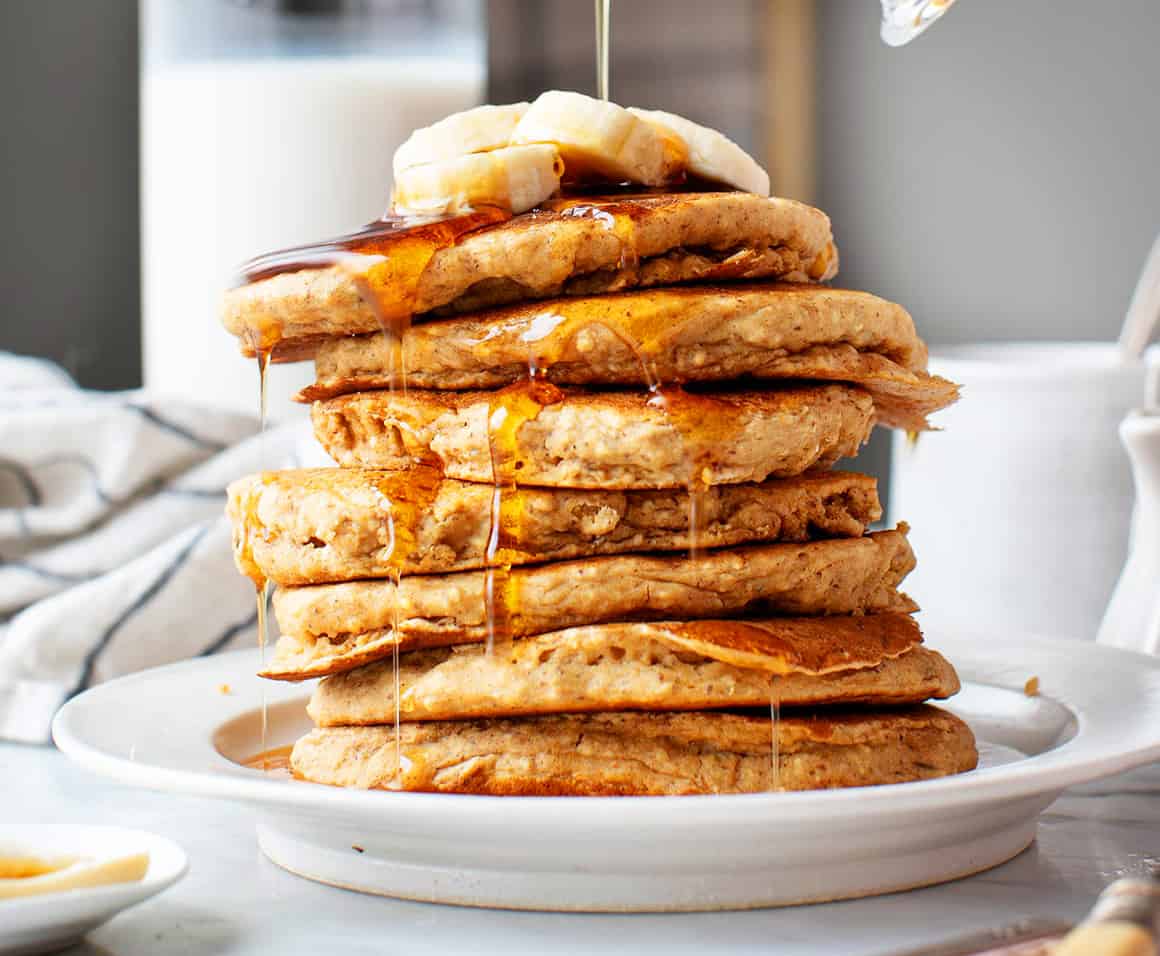 Vegan Breakfast Ideas: Vegan Banana Pancakes
These vegan banana pancakes are one of our favorite vegan breakfast recipes!
Ingredients
1

 

tablespoon

 

ground flaxseed

3

 

tablespoons

 

water

½

 

cup

 

mashed banana

, 

about 1 large

2

 

tablespoons

 

extra-virgin olive oil

, 

more for brushing

1

 

teaspoon

 

vanilla

¾

 

cup

 

+ 2 tablespoons almond milk

, 

more if needed

1½

 

cups

 

whole wheat pastry flour*

½

 

cup

 oat flour

2

 

teaspoons

 

baking powder

½

 

teaspoon

 

baking soda

1

 

teaspoon

 

cinnamon

½

 

teaspoon

 

nutmeg

heaping ¼ teaspoon sea salt

Maple syrup

, 

banana slices, and pecans, for serving
Instructions
In a large bowl, combine the flaxseed, water, and banana. Mash and stir until well combined. Let the mixture sit for 5 minutes to thicken.

Add the olive oil, vanilla, and almond milk and whisk. Add the flour and sprinkle the baking powder, baking soda, cinnamon, nutmeg, and salt evenly over the top. Stir until all the ingredients are combined, but the batter is still a bit lumpy. The batter will be a bit thick but if it's too thick to scoop, stir in an additional 1 tablespoon of almond milk.

Heat a nonstick skillet or griddle to medium heat. Brush the skillet with a little olive oil and use a ⅓-cup measuring cup to pour the batter onto the pan. Use the back of the cup to gently spread the batter a little more. Cook the pancakes until bubbles appear, about 1½ minutes per side, turning the heat to low as needed so that the middles cook without burning the outsides. I usually start with medium heat and move to low heat as my pan starts to hold residual heat after each batch.

Serve with maple syrup, sliced bananas, and pecans, if desired.
Notes
*I like Bob's Red Mill Whole Wheat Pastry Flour. To substitute the whole wheat pastry flour, use a 50/50 mix of all-purpose and whole wheat flour.